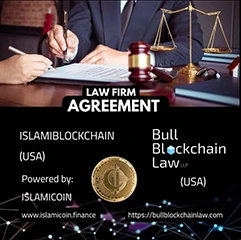 We have great news for you all, our community of ISLAMICOIN hodlers and interested parties.
It is with great pleasure to announce that we have partnered with Andrew Bull, founder of Bull Blockchain Law (BBL), a specialized firm that will help ISLAMICOIN continue along the path of success. As Philadelphia's first firm that focuses on cryptocurrency, Bull Blockchain Law will provide ISLAMICOIN with oversight, regulatory compliance, contract negotiation as well as protection in all projects moving forward.
Bull Blockchain Law works on: Digital Assets and Token Projects, Fintech and Virtual Currency, Business Compliance, Non Fungible Tokens (NFTs), Intellectual Property, Blockchain Litigation and many more.
For more information about Bull Blockchain Law and Andrew Bull please visit https://bullblockchainlaw.com